​
"TNC"
THE NAKED COWBOYS​​
With so much experience,
They have forgotten more songs than most bands know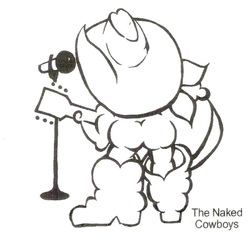 ~TNC~
THE NAKED COWBOYS
THIS IS YOUR DADDY'S COUNTRY MUSIC!
OUTLAW Country Music
PLAYED THE COWBOY WAY
~ WE ARE YOUR DATE NIGHT BAND ~
The Naked Cowboys are a 4 piece classic, Out Law country band with a "splash" of classic and southern rock. Playing Waylon, Willy, Merl, Hank, and Cash among others, they are a crowd friendly, engaging, "DATE NIGHT" "DANCE NIGHT" "SING ALONG" BAND.
This talented group comes from a solid background in the entertainment business.
Made up of members from the original Naked Cowboys, The White Water band, The Rubies, The Killebrews, Emily Mars band, 28 If,
​ and The LAW, This band brings Energy, Professionalism, and Style to the Stage.
There's something for everyone.
​Tim ~ lead guitar and vocals,
​Dan ~ bass and vocals, Jake ~ lead guitar, steel guitar, and vocals,
Tim C ~ Drums (and vocals too, they just don't mic him)
Great LIVE Entertainment for, Clubs, Weddings, Festivals, Celebrations of all Kinds!
CHECK US OUT ON
www.facebook.com/pages/The-Naked-Cowboys-Band
Booking information:
email:
timstevenson18@icloud.com
Tim @ 612-408-0748 (call or text)
Lena @ 612-272-9086 (text)


---